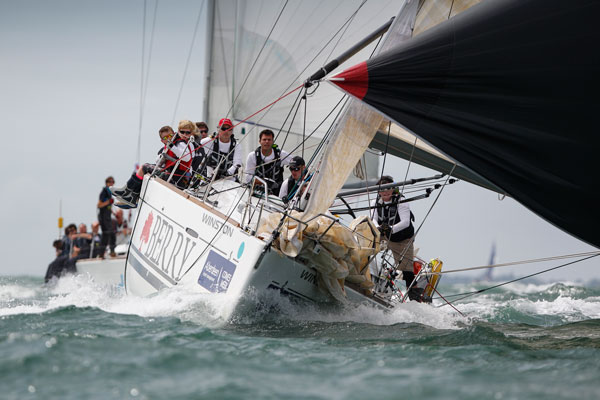 First 40 results worldwide
In the four years since their launch, First 40s have won some pretty impressive events – class winners in Cowes Week, Sydney Hobart, Morgan Cup, Cervantes Trophy, Commodores Cup St Maarten, RORC 600, YW Around Antigua, Round Barbados Race, and numerous corporate regattas including Little Britain Challenge Cup, Manches Cup, Lutine Lineslip Regatta and many more.
Winston results
In her first race series, Winston achieved a creditable 3rd in the 2011 Hamble Winter Series with scratch crew learning how to sail her. She went on to gain 2nd in the Warsash Spring Series with a charter crew and won the Spring Championship.
Under corporate charter in the 2012 J.P. Morgan Asset Management Round The Island race she was 5th in a large division. In 2013 she was busy with corporate charters and regattas achieving good results for novice crews including a 3rd in Dartmouth Week, and at the end of the season won her class in the Hamble Big Boat Championship with a 4th in the Winter Series.
The corporate charter season 2014 was another busy and successful year, with clients returning to repeat their 2013 experiences. Through the season Winston was generally in the top half of the fleet, with our corporate novice crews sailing against some pretty hot competition, including a creditable 9th in IRC2 in Cowes Week, one of the most competitive classes in the regatta.